Sports injuries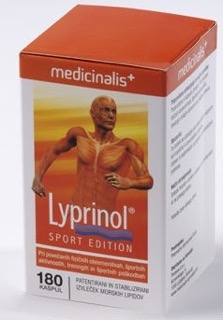 Lyprinol Sport Edition®
is food supplement for increased physical effort, training and sport injuries. It is made out of marine oil lipid extract PCSO-524™ from the New Zealand Green Lipped Mussel.
Lyprinol® Sport Edition is proven to be effective in repairing old and new muscle and joint damage.
The anti-inflammatory effect of the unique fatty acids in the Lyprinol® Sport Edition helps to rapidly heal the small lacerations that can arise in the muscular tissue during strenuous training.
Research confirms that Lyprinol® Sport Edition works anti-inflammatory and reduces pain in chronic muscular and joint problems. Lyprinol® Sport Edition provides a natural and effective alternative to pharmaceuticals.
Lyprinol Sport Edition®
reduces the time needed to recuperate after an intense workout by up to 50 percent and increases lung capacity by 5 do 10 percent
.
Attention: Lyprinol® is available only for specific countries.